Testosterone Propionate for Sale Online with Top Price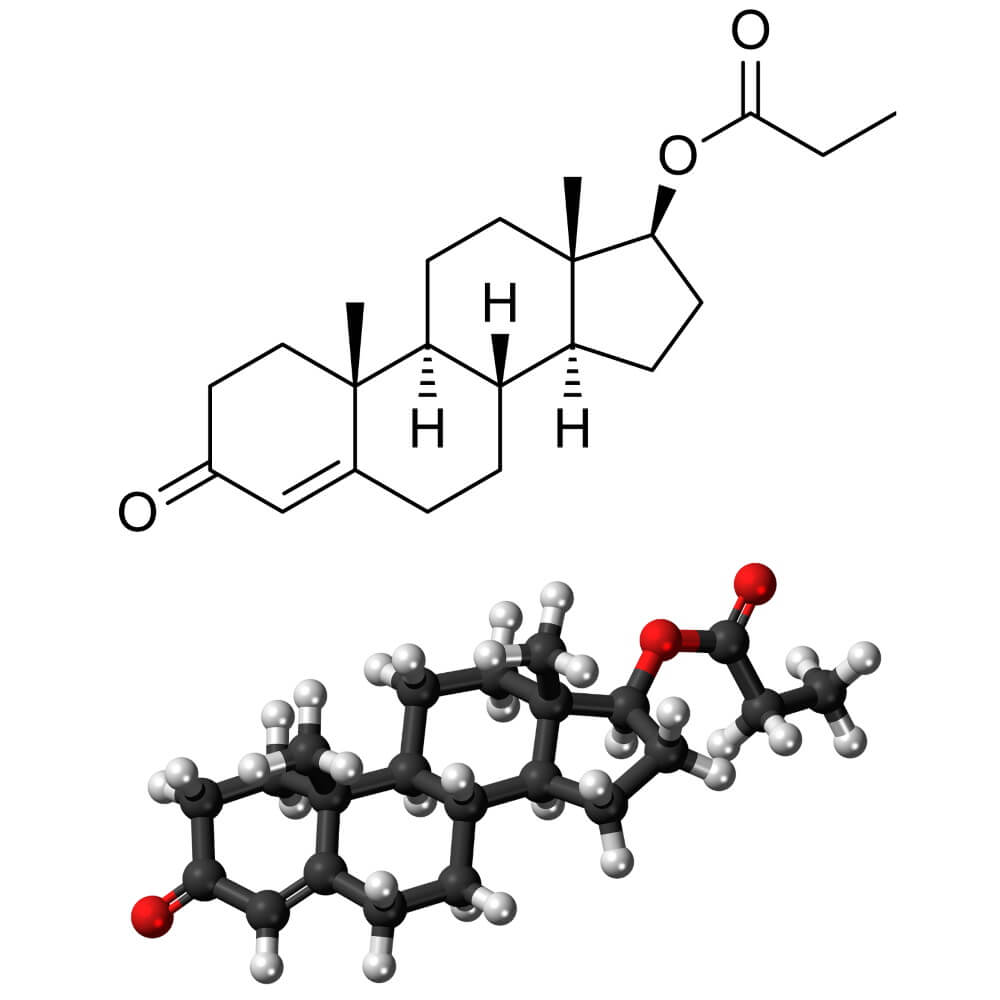 Testosterone Propionate is the shortest among all testosterone esters currently available on the market. It does everything you would expect from testosterone, but it retains less water compared to longer versions of the product. It is characterized by a high anabolic and androgen index and low liver toxicity.
Depending on the route of administration and whether you combine it with another steroid, Propionate can help with weight gain, muscle gain and weight loss. It will help you increase your libido and potency and improve your strength and endurance during training.
Its difference from other anabolic steroids is that it has a fast action. This rapid form of injectable testosterone is widely preferred by both bodybuilders and strength athletes. It has almost no side effects because it is difficult to convert to estrogen.
The effect of the preparation occurs within 3 to 72 hours of the first injection. The full potential is revealed at 6 weeks after the start of the cycle. Traces of it in the body can be found up to 3 weeks after stopping the intake.
Testosterone Propionate does not increase water retention and can be used equally successfully in both muscle mass and muscle relief cycles.
Method of use and combination with other steroids:
Testo Propionate has a relatively short half-life, which requires frequent injections. The dose varies depending on the purpose and experience, and is usually used in doses of 50-200 mg. Women take between 10-50 mg.
Testosterone Propionate injections can be combined successfully with any anabolic steroid. Depending on the purpose, it can be combined with Anavar, Trenbolone, Stanozolol and Masteron in muscle relief cycles, and in muscle mass cycles with Deca-Durabolin, Boldenone, Trenbolone, Dianabol and Anadrol.
Possible side effects and how to deal with them:
Testosterone Propionate can cause elevated estrogen levels, such as increased water retention, gynecomastia and more. To avoid it, especially in predisposed exercisers, the use of products such as Tamoxifen, Clomiphen Citrate or aromatase inhibitors such as Arimidex and Letrozole is recommended.
Women taking it may experience typical virilization side effects such as deepening of the voice, changes in skin texture, facial hair growth, menstrual irregularities, and clitoral enlargement.
Testo Propionate has proven its effectiveness in building muscle mass, which led to its popularity among professional and novice bodybuilders.
Most often, it is used in bodybuilding for quick removal of the body fat and excess water from the body without affecting the structure and appearance of muscle mass.
Steroid profile
Chemical structure: Testosterone Propionate is a modified form of testosterone in which the propionate ester is attached to the testosterone molecule. This esterification process increases the half-life of the steroid and makes it more soluble in oil, allowing for slower release into the bloodstream.
Anabolic/androgenic ratio: the anabolic/androgenic ratio of testosterone propionate is 100:100. This means that it has an equal ratio of anabolic (muscle building) to androgenic (masculinizing) effects.
Route of administration: Testosterone propionate is usually administered by intramuscular injection.
Half-life: The half-life of Testo Propionate is approximately 2 to 3 days, indicating that it has a relatively short duration of action compared to other forms of testosterone.
Detection Time: It can be detected in the body for up to two weeks after administration.
Dosage: The typical dose of Testo Propionate for performance enhancement is 200 mg every other day or every day, although some athletes may use higher doses.
Effects of taking Testo therapy
Its positive effect on the formation of the male body has led to its wide use in professional and amateur bodybuilding, weightlifting and pre-competition training courses.
It should be noted that all positive results, especially in sports, depend not only on the correct dosage and duration of intake, but also on compliance with the diet and training regime.
The substance has a positive effect on the production of bioactive peptides, which are directly involved in the formation of muscle fibers. Testosterone Propionate lowers the level of leptin, which regulates metabolic processes and reduces appetite, resulting in a significant fat-burning effect. However, in order to maximize the effect, it is necessary to follow an appropriate diet program.
Positive effects for increased libido, performance and concentration.
In middle-aged and elderly people with cardiovascular problems associated with a lack of natural testosterone in the body, Testosterone Propionate can significantly reduce the risk of heart attack and ischemia, but the opposite effect is often observed in young athletes.
The product has a short duration of action, no more than 2 days, after which its maximum level in the blood drops to the initial level. Testosterone Propionate has an affordable price, and many benefits make it indispensable for use. Before you buy injectable steroids, it is necessary to consult with a specialist and a coach.
Side Effects
Prolonged use may cause increased levels of nitrogen, calcium, sodium in the blood, which leads to bone growth, hypercalcemia, stomatitis.
In men, low doses can lead to an increase in the number of sperm produced, while high doses have the opposite effect.
Taking Testo Propionate does not usually cause adverse reactions if hormone levels and hormonal function are constantly monitored.
Nevertheless, the substance may have undesirable negative side effects.
The most common are:
- Pain, redness, and rashes on the skin at the injection site;
- Increased irritability and aggressiveness;
- Fluid accumulation in the tissues;
- The development of gynecomastia;
- The appearance of skin problems (acne, acne, increased oiliness);
- The appearance of hair in undesirable places;
- Baldness in men;
- Abnormalities in the composition of seminal fluid;
- Problems with potency;
- High blood pressure;
When taking any kind of anabolic steroids, constant monitoring of health status is required.
Dosage and course of taking Testo Propionate
In sports pharmacology for performance enhancement, the optimal dose of the medicine is 50 mg taken every other day.
To achieve the maximum anabolic effect, the dosage is increased to 100 mg, with injections of the substance every other day. This dose is considered safe, easy to control and easily accepted by the body.
Professional athletes increase the dose to 150-200 mg and take the medicine every other day. However, increasing the dose carries the risk of side effects, even though men can usually tolerate it well. Moreover, the higher the dose of the anabolic steroid, the longer the cycle of post-steroid therapy.
Contraindications

- Individual intolerance to any of the ingredients;
- Prostate cancer;
- Gynecomastia;
- Liver function abnormalities.
- Hypercalcemia;
- Cardiovascular disease.
How to buy Testosterone Propionate online?
In the assortment of our online store there is a wide range of injectable steroids like Testosterone Propionate, Testosterone Cypionate and Testosterone Enanthate from different suppliers.
Our company cooperates only with reliable, trustworthy manufacturers. You can order on our website without any problems. It is fast and easy. We offer a wide range of products for beginners and professional athletes.
Customer reviews
Users of the original preparation emphasize its high effectiveness in terms of building lean muscle mass before competitive training.
Most positive reviews about Testo Propionate are due to its affordable price, and the possibility of use on different cycles.
In addition, the presence of therapeutic properties of the product leads to greater confidence among professional and inexperienced athletes.
If you follow all the recommendations regarding the intake of the substance, diet and the presence of a stable training process, Testosterone Propionate is an effective product that ensures the achievement of high athletic performance and results.
Showing 1 to 15 of 15 (1 Pages)